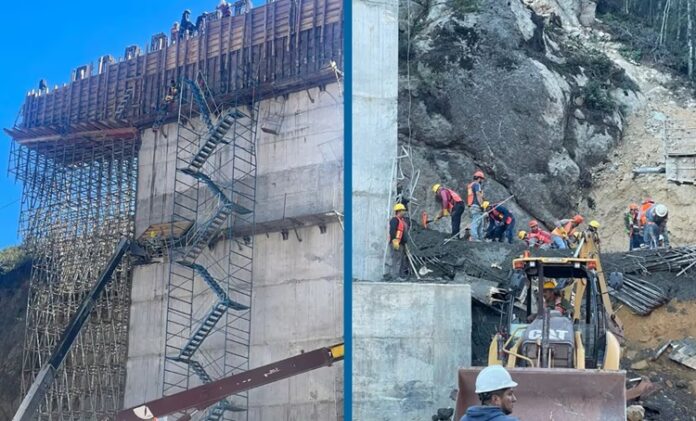 On Saturday, November 18, Omitlán Civil Protection received an emergency call. A 15-meter-high scaffold that supported 100 tons of concrete and steel from the construction works of the new Real del Monte-Entronque Huasca highway had collapsed and workers were buried under the rubble.
Elements of the Omitlán Civil Protection, as well as elements of the State and municipal Police, went to the place identified as Vicente Guerrero, on the federal highway, and cordoned off the area.
Almost immediately, among the workers of the Vise company that builds the viaduct and PC, they rescued four of the eight workers, who were transferred to Pachuca; three to the IMSS General Hospital and one more to the Marfil Hospital. Hours later, the death of one of the 4 hospitalized workers was reported.
At the same time, the rescue forces and company personnel continued the search for those buried by tons of concrete and debris at the foot of one of the walls.
Juventino Morales, construction superintendent of the VISE company, said he did not know where the injured workers were taken since they were focused on rescuing the workers.
On the federal highway, traffic was stopped in both directions as a result of this accident, and long lines of stranded vehicles and public transportation were generated from Omitlán to Real del Monte. The Mexico-Tampico federal highway was closed at the Huasca Junction.
The alternate road that was enabled was the old Real del Monte – Omitlán highway through the neighborhood of Guerrero and Escobedo, which runs parallel to the federal highway.
---
According to information from the route checkers, the units were stranded in highway traffic and there were users who had to wait for hours to board a unit.
---
Meanwhile, at Kilometer 17+590, emergency staff and workers from the VISE company, along with personnel from other companies, formed teams of workers to continue with the search and rescue strategies for the 4 workers trapped in the rubble.
As time passed, and night fell, the concern and urgency to find them grew. It was reported that four were originally from Michoacán and four more were from Hidalgo.
Those who also joined despite the cold were the inhabitants of Omitlán who arrived with pots of coffee and boxes of cakes for all the people who participated in the rescue maneuvers since the night was falling and the work was arduous.
And it was not until early morning that they rescued three more workers, but they were dead.
More than 24 hours later, the rescue team located the lifeless body of the last buried worker, and the federal highway was reopened, leaving 5 dead and three injured.
Source: El Universal
---