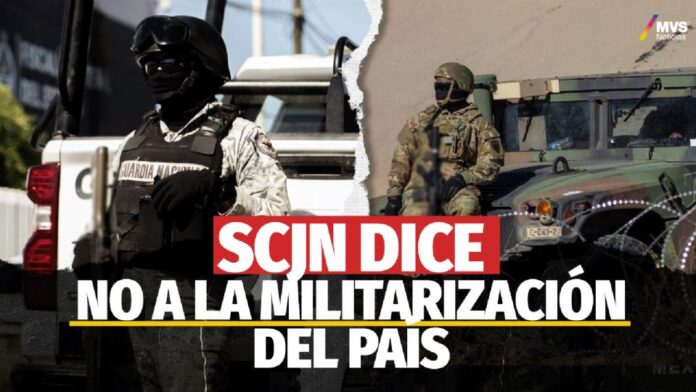 On Wednesday, April 19th, Mexico's president lashed out at the country's Supreme Court, likening justices who frustrated his plan to hand control of the civilian-led National Guard to the Army to a former minister convicted of taking bribes from a drug cartel.
On Tuesday, April 19th, the Mexican Supreme Court ruled legislation promoted by President Andres Manuel Lopez Obrador mandating that the Army assume control of the National Guard was unconstitutional.
Two of four justices nominated by the president voted against his plan. Eight of 11 justices voted it down in total.
Lopez Obrador said on Wednesday he would stick to his plan and vowed to present a constitutional reform to Congress next year during his last month in power to ensure the Army was given charge over his signature security force.
The president said those opposing his vision had acted in a "factious manner in accordance not with legal, but political criteria, defending the old practices of the authoritarian and corrupt regime," referring to past governments that he opposed.
"The justices of the court, with the exception of three, act like the government of (former President) Felipe Calderon and his security minister, Genaro Garcia Luna," Lopez Obrador told reporters at his daily news conference.
In February, Garcia Luna, who once led Mexico's fight against drug gangs, was convicted by a U.S. court of taking millions of dollars in bribes from the Sinaloa Cartel, which was long headed by now-jailed kingpin Joaquin "El Chapo" Guzman.
Lopez Obrador, who has suffered a number of setbacks at the hands of the court, will leave office at the end of September 2024 following the general elections in June 2024.
The next Congress will begin on Sept. 1, 2024, the day Lopez Obrador said he would present his initiative to reform the constitution to enshrine military control of the National Guard.
To this end he said it was vital that voters gave his National Regeneration Movement (MORENA) and its allies the two-thirds majority needed to pass constitutional changes, setting the scene for another battleground in next year's elections.
With information from El Financiero
---