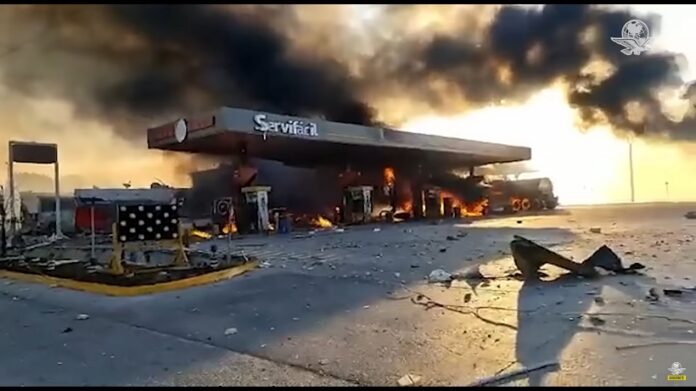 At a station on the Tula de Allende-Tlahuelilpan highway, an LP gas tanker was refueling when the explosion occurred in which ten vehicles were burned
A preliminary balance of two deaths and ten wounded was what left the explosion of a gas truck and a gas station in the region of Tula reported public security sources in the state of Hidalgo.
According to the reports, ten cars that were parked in the place were also completely burned; this fact was visible in a perimeter of at least five kilometers from the site.
The explosion occurred at the Servifácil station, located in Iturbe, on the Tula de Allende-Tlahuelilpan highway, when an LP gas truck from the Gas Mejía company was refueling at the station.
The incident mobilized personnel from the emergency services to the Tula-Actopan state highway, in addition to personnel from the Mexican Army and the National Guard arrived to apply Plan DN-III-E and Plan GN.
After that incident, the surrounding streets were closed to traffic to facilitate the work of the relief forces.
Once the fire and the risk were controlled, personnel from the Scientific Division of the Hidalgo Attorney General's Office began to process the site.
Source: El Universal