There also has been significant investment in HIdalgo and other Mexican states from other emerging markets.
In October 2020, six generic drug makers, mostly Indian—Dr Reddy's Laboratories (Hyderabad, India), Cadila Pharmaceuticals (Gujarat, India), Glenmark Pharmaceuticals (Mumbai, India), Torrent Pharmaceuticals (Ahmedabad, India), Hetero Drugs (Telangana, India), and Ackerman Pharma (State of Mexico, Mexico)—signed a deal with the Mexican state of Hidalgo to set up a large pharmaceutical cluster for production and logistics.
The move was facilitated by the Indian Ministry of Commerce and Industry and is expected to help these companies penetrate neighbouring Latin American markets, according to India's Economic Times.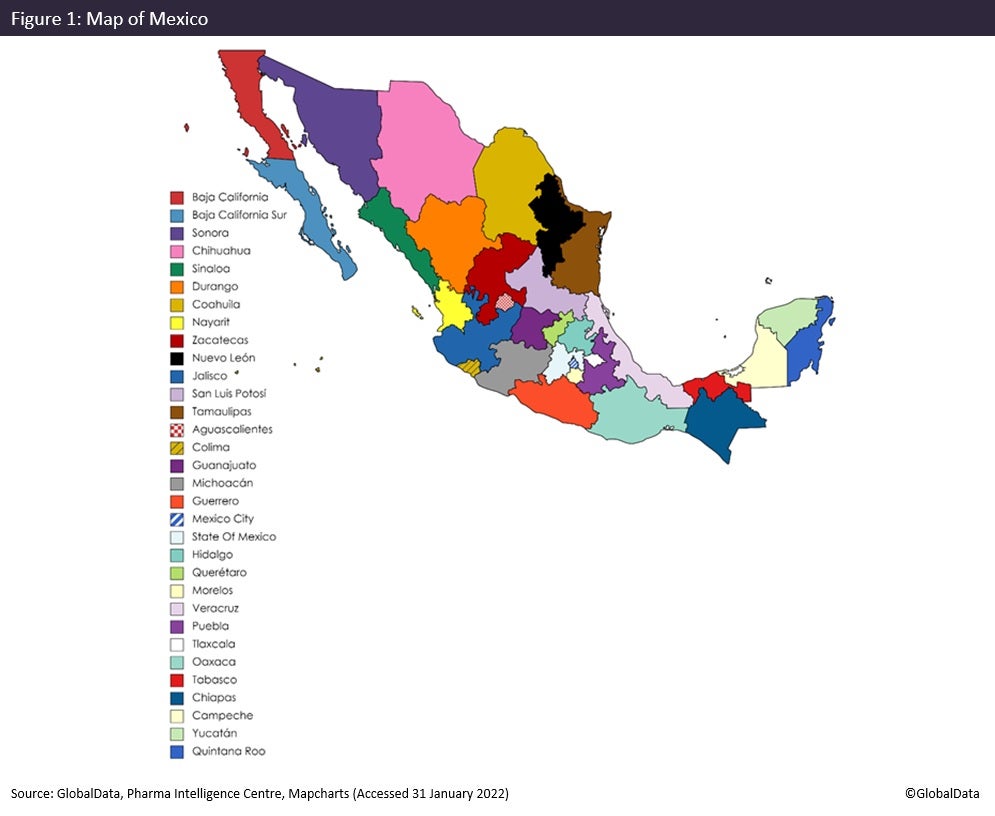 Mexico is a large country with a land area of around two million square kilometres, with tremendously varied terrain and climate: mountains and canyons in the centre, deserts in the north, and rainforests in the south and east regions. The country's industry is helped by a large land border with the US and ports on both the Atlantic and the Pacific. Its most densely populated areas include Mexico City and the neighbouring states of Morelos and State of Mexico (Distrito Federal), which is why many facilities are concentrated in these spots. There is a notable absence of pharma manufacturing in many states, as pharma manufacturing activity is concentrated in only a few regions.
Mexico City, the country's densely populated capital city, has the largest number of pharma manufacturing facilities, accounting for 50% of all FDA and/or European Medicines Agency (EMA) approved sites (56% of sites with any regulatory approval). Most of these sites offer commercial dose manufacturing (56%), with 27% offering active pharmaceutical ingredient (API) chemical production, as well as one site operated by Sanofi (Paris, France) offering API biologics (protein and peptide), commercial dose injectables and commercial packaging. The state of Morelos, located on the south border of Mexico City, has the second largest number of facilities and predominantly contains facilities with API chemical capabilities.
Foreign M&A potential
There is a substantial presence of international pharma companies and contract manufacturing organisations (CMOs) in Mexico. Slightly less than half of the CMOs have international owners, which shows there is already good international investment and a high level of interest in the country. It could stand to benefit further from a nearshoring of pharma sites owned by US companies due to uncertainty stemming from Covid-19 supply chain issues and recent trade conflicts between the US and China.
There are already three US-headquartered pharma manufacturers operating in Mexico: pharma companies Abbott Laboratories (Abbott Park, Illinois) and Baxter International Inc (Deerfield, Illinois), and leading CMO Patheon (Durham, North Carolina), a ThermoFisher Scientific (Waltham, Massachusetts) subsidiary. Europe and Canada-based companies also have Mexican pharma manufacturing sites.
Pharma giants such as Roche (Basel, Switzerland), Bayer (Leverkusen, Germany), GlaxoSmithKline (Brentford, UK) and Sanofi all own Mexican sites. There is a clear interest in the region from numerous companies at the top of the pharma industry, which showcases Mexico's importance to pharma production. Most facilities owned by these large companies are based in and around Mexico City.
The vast majority of FDA or EMA-approved facilities (90%) in Mexico belong to companies with a single site in the country, which indicates the large merger and acquisition (M&A) potential of the area's pharma industry.
Source: pharmaceutical-technology.com