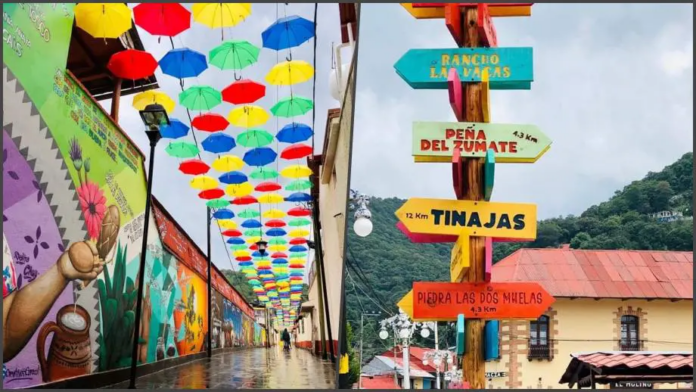 Omitlán de Juárez is one of the towns in Hidalgo with the most tradition, its people and its magic make it very special.
This place nestled in the mountains of the mining corridor is classified as a Town with Flavor and is ideal to spend a weekend with the family.
The Callejón del Said was inaugurated, one more ingredient to learn and enjoy the local culture.
This alley was filled with color with dozens of umbrellas that adorn the walk. In addition, phrases and sayings were captured on the walls along with works of urban art that refer to characters, gastronomy, mining, and the sport of great roots in the community: baseball.
One more reason to visit this beautiful town of Hidalgo. Live it up!
The municipality of Omitlán de Juárez is one of the eighty-four municipalities that make up the state of Hidalgo, it is located in a ravine that surrounds the mountains of Real del Monte, that is, the famous hills known as Cerro Gordo, Cerro del Gallo and Peña del Zumate.
The name "Omitlán" comes entirely from Nahuatl, which means "Ome" two and "Tlan" instead of, together "Place of two", which can be related to the two crests of the Peña del Zumate.
The municipality has an area of ​​110.50 km2 in its entirety and has a temperate semi-cold climate, with an average annual temperature of 14º C and an annual rainfall of 700 to 1200 millimeters.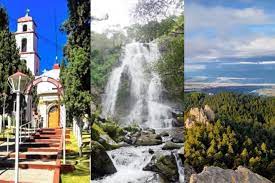 The flora of this beautiful municipality is mainly made up of oak, nopal, oyamel, ash, pine, walnut, tepozan, strawberry trees, as well as exotic trees such as peach, pear, plum, blackberry, apple. While the fauna is made up of various animal species typical of the region such as fox, crow, squirrel, gopher, rattlesnake, snow leopard and a great variety of birds.
Within the municipality, there are also beautiful tourist areas, where you can do different activities in the company of the whole family, such as walks, camping or picnics, among others.
Source: pachucavive.com