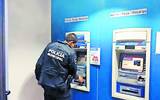 Pachuca police discovered a dangerous trap designed to retain money in one of the bank ATMs in the capital of Hidalgo. 
It was during the execution of the "Safe Cashier" program, implemented by the Municipal Public Security Secretariat with the aim of preventing fraud and protecting the clients of banking institutions when they located it.
The trap, which could have caused large economic losses to unsuspecting users, was discovered in the early hours of this Friday morning at a bank branch located in the center of Pachuca.
Everything indicates that there were no victims, since there were no reports of account holders who have lost money at that ATM, this because it was possibly a short time since the criminals had placed it.
The uniformed urged to take precautions when using ATMs, such as verifying that there are no suspicious devices or suspicious people near the machine.
Source: El Sol de Hidalgo