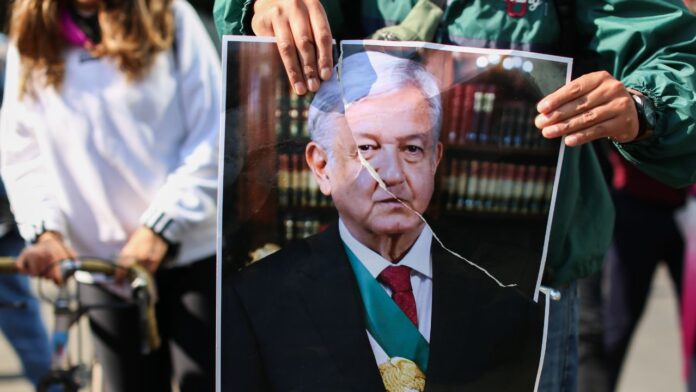 Luisa del Rosal is an entrepreneur and the former executive director of the Tower Center and Texas-Mexico Center at SMU. She ran Dallas Mayor Tom Leppert's Intern Fellows Program and served as chief of staff for a member of Congress. This s her latest Dallas Morning News editorial piece on Lopez Obrador and how the man is a threat to democracy on both sides of the border:
Mexican President Andrés Manuel López Obrador is a threat to democracy in his own country. And now it appears he'd like to export that threat to ours. Americans should be united against that.
López Obrador has threatened U.S. lawmakers and said he would launch a campaign to influence Hispanics in the U.S. on whom to vote against in U.S. elections. This is in response to a bill from U.S. Rep. Dan Crenshaw, R-Houston, that would authorize military force against drug cartels in Mexico.
As the former executive director of the SMU Mission Foods Texas Mexico Center, I know and care about these topics deeply, and I always stay tuned to them. As a Mexican American, whose parents still live in Mexico, such issues concern me personally.
These threats to democracy aren't coming from a long-time adversary across the sea or extremists in a distant land, but from across our border, just some miles away from home in North Texas. This is our neighbor, a long-trusted economic partner.
We should not take this threat lightly. After all, it comes shortly after López Obrador pushed forward reforms to basically gut Mexico's electoral system and its independent electoral institution, the National Electoral Institute (INE).
INE is the independent entity that helped Mexico transition into a true democracy and overcome 71 years of what can only be described as a reign of the Institutional Revolutionary Party (PRI) — the same PRI that was the former ideological and political home of the current Mexican president. López Obrador knows how to take over a country: If you control the elections, you control a country's future.
What is truly remarkable is that the leader of a nation long considered a key U.S. ally, a partner, a neighbor, and a friend, would so boldly threaten to try to influence U.S. elections. How broken is the trust? How fractured is our relationship?
Click here to read the complete original article by Luisa del Rosal in the Dallas Morning News
Source: Dallas Morning News