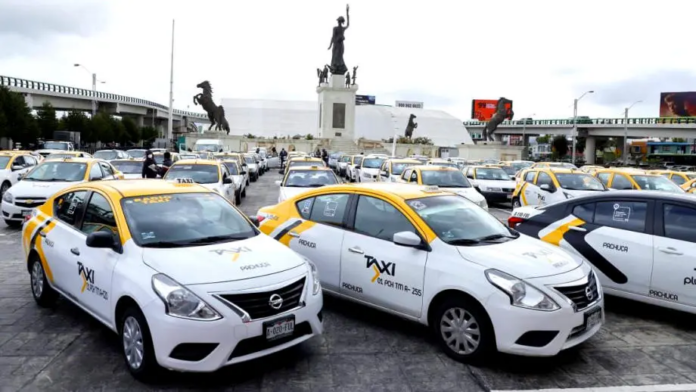 This Monday the #TaxiContigo program was presented, which aims to revolutionize the taxi service in Hidalgo.
The start-up was made officially by Omar Fayad, governor of Hidalgo, who assured that our state will be a national benchmark with this system.
What is #TaxiContigo?
These are changes in the service that include the modernization of the units with new colors and a technological platform that integrates a digital taximeter, panic-alert button, mobile application and geolocation services.
On the street, all services will cost the same; but, in case of requesting it through the mobile application, there will be an extra cost if a higher type of vehicle is required.
Users can also link their trip through a QR code installed in the vehicles and make it visible on their phone if they have previously downloaded the mobile application, which will be available from August.
You can also rate the service received and the evaluation will benefit taxi drivers who carry out their work properly.
Service types
The most important modifications are the implementation of four types of service :
Basic Taxi
The standard service that we already know. Vehicles with a maximum of 15 years old and capacity for 4 passengers.
Preferred Taxi
Standard service designed for people with mobility problems. These vehicles will be adapted for ascending and descending using ramps, platforms, and accessories, in addition to having space for wheelchairs with safety anchors.
Taxi Plus
Taxi with special service and functionality through mobile application. Vehicles will have a maximum of 5 years old.
Premium Taxi
These will provide a more exclusive service and will work with application. They will be medium to high-end vehicles with a maximum of 2 years old and will have accessories that improve the travel experience.
These modifications are already in process and the first stage is implemented in:
Pachuca,
Mineral de la Reforma.
Later it will be introduced in:
Tulancingo,
Tula,
Tepeji,
Tizayuca.
Later and gradually, it will be carried out in the rest of the municipalities of the entity.
Source: pachucavive.com