Just a few hours' drive from Mexico City, you can find yourself surrounded by nature; relax in hot springs, rejuvenate with cold waterfalls, zip-line down the mountain, and explore cave pools.
The Grutas de Tolantongo, located in the state of Hidalgo, Mexico, is a series of thermal mineral springs, caves, and open pools that flow down a mountain into a beautiful valley. These hot springs have grown in popularity thanks to backpackers and travelers sharing their stunning pictures. Experience a dramatic change of scenery, from city views to mountains filled with over 80 species of cacti, as four-lane highways turn into winding, bumpy roads, and enjoy the truly remarkable beauty of Mexico.
Visiting the Grutas mid-week means the site is not as busy; weekends here tend to be very popular. Arrive in time to spend a couple of hours relaxing in the different pools carved into the side of the mountain. These pools are man-made but filled with the warm natural water from the flowing hot springs, coming from the lower layers of the earth. This healing water is full of minerals such as sulfur, iron, chlorine, calcium, magnesium, sodium, and bicarbonate. After a couple of hours relaxing in the various little pools and enjoying the mountain views, it's time for adventure. The fastest way down the mountain is via zip line – there are four circuits of zip lines in total and the views are breathtaking.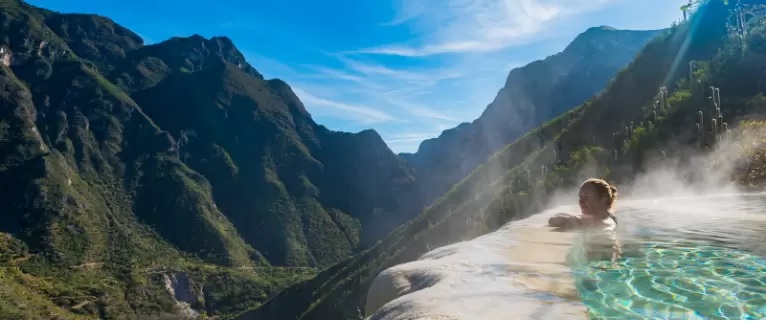 Once at the bottom of the mountain, enjoy lunch along the river and then take a swim before exploring the cave pools and waterfalls. Entering the first cave you'll see a high waterfall, like a natural hydrotherapy jet with enough pressure to relax muscle tension. Explore more of the cave to see the stalactites and stalagmites created from mineral deposits, and venture through tunnels and caves even deeper inside the mountain. The water in the cave pools is around 96-100°F (36-38°C), heated by the surrounding volcanic mountains between the rocky canyon. There are also various cold waterfalls, a delicious contrast to cool down from the high temperature of the thermal waters inside the caverns.
Source: www.grutastolantongo.com.mx
Hidalgo Daily Post
---
By Sarah Benz