If you're a nonfiction writer hoping to land a publishing deal, you'll first need a compelling and effective book proposal. Even if you intend to self-publish, a solid proposal will give your ideas a necessary framework as well as clarify your hook, audience, and market category. Think of it as a business plan designed to convince your reader to invest in you. In this intensive workshop, a literary agent will lead you through the whys and hows of the book proposal: its primary purpose, the story it needs to be telling, and the essential components every proposal should contain. Looking at example proposals, as well as participants' own book ideas and synopses, we will work through each key structural element, shedding light on why some proposals persuade while others fall flat. We will examine ways to convincingly articulate your book's need in the marketplace and your authority to tell a particular story. You'll learn why identifying your target audience is just the beginning, with surefire strategies on building your platform and credentials and how to meaningfully highlight them to agents and publishers. We'll discuss the importance of contextualizing your project through market research and competitive title analysis to boost your project's viability — and salability. You'll leave this workshop with a clear understanding of the nuts and bolts of proposal structure as well as insider tips and tricks that get proposals noticed. Attendees are invited to come prepared with their book ideas and synopses for participatory exercises, brainstorming, and critique. Time will be devoted to Q&A.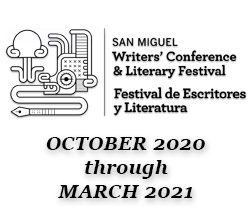 + 21 JAN 20217:30 PM-9:00 PM GERARD HELFERICH
As Ernest Hemingway observed, "There are no great writers, only great rewriters." In this hands-on workshop, writers of all levels of experience can sharpen the tools they need to go from first draft to finished manuscript. After analyzing the work of past and present masters of the craft, we will practice editing as a group, honing our skills and applying time-tested methods of improving our work. In our discussion of structure, we will consider how to organize our writing to propel the reader ever forward. In our consideration of conciseness, we will examine how to improve our writing by weeding out unnecessary words that dilute our intent. In our look at precision, we will see how to transform weak, flabby writing into prose that ripples with energy and meaning. At the end of the session, participants will have a new appreciation of what makes for good writing, in both fiction and nonfiction, and they will have practical tools to help them achieve that ideal in their future work.
Source: sanmiguelwritersconference.org,